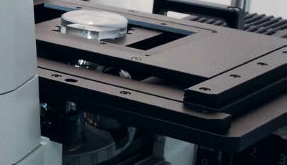 IMT Quick-Scan™ is an intuitive motorized stage control system which automates many of the powerful applications tools available with DT-M software. IMT Quick-Scan is the trade mark of IMT i-Solution Inc.

Key Features of IMT Quick-Scan™

Extremely fast scanning: Scanning time while capturing image is quick and the result is precise.
Automatic image overlap compensation: Data is accumulated and adjusted live to compensate for image overlap.
Multiple scanning methods: Circular, rectangle, and square shape based on application needs.
Theta compensation for camera and stage: Images are automatically compensated for camera and / or stage mis-alignment.
Automatic shading correction: During scanning, shading correction is applied automatically.
Automatic focus adjustment: During scanning, Z focus is adjusted automatically as the stage moves into the X and Y direction.
Stage position memory: X / Y / Z stage positions are memorized for future recall.
One click position recall: A single mouse click on the mosaic image brings the stage to the exact location for further observation. So the user can switch to the higher magnification objective lens for better inspection and image capture.


NMI Quick-Scan™

Automatic analysis system for NMI(non-metallic inclusion)
System components: upright or inverted microscope (we recommend using upright microscope for better observation) + Motorized control stage (Marzhauser, Prior Scientific, Ludl, and ASI stages are supported) + computer + DT-M program




Extreme value analysis of NMI
(ASTM E2283)



KSD 0204 (1982)
JIS G0555 (1977)
IMT NMI Quick-Scan™ constantly endeavors to provide the most complete set of tools for metal texture analysis. As result, the analysis solution to non-metallic inclusion is unveiled. This function is intended to determine the inclusion content of steel according to EN 10247 (2007), ASTM E2283, ASTM E45 (2002), E1122, E1245-03 (2008), DIN 50602 (1985), ISO 4967(1998), KSD 0204 (2002), KSD 0204(1982), JIS G0555 (1977), JISG 0555 (2003)
There are two analysis approaches implemented, Stereological measurements and JK inclusions ratings. The European and British Standard BS EN 10247 (2007) has been added. This is the micrographic examination of the non-metallic inclusion content of steel using standard reference pictures. This European Standard defines a method of microscopic non-metallic inclusion assessment using reference charts. The basic principle of this European Standard allows the determination of non-metallic inclusion content by image analysis techniques. According to the CEN / CENELEC Internal Regulations, the national standards organizations of the following countries are bound to implement this European Standard: Austria, Belgium, Bulgaria, Cyprus, Czech Republic, Denmark, Estonia, Finland, France, Germany, Greece, Hungary, Iceland, Ireland, Italy, Latvia, Lithuania, Luxembourg, Malta, Netherlands, Norway, Poland, Portugal, Romania, Slovakia, Slovenia, Spain, Sweden, Switzerland and United Kingdom.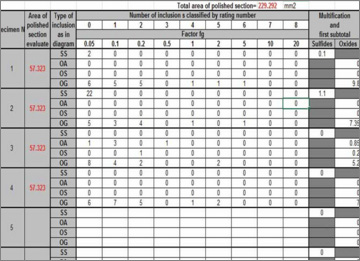 DIN 50602

ISO 4967

ASTM E45